About Mahindra & Mahindra
M&M was founded by K.C and J.C. Mahindra in 1945 as a steel trading company and in 1947, M&M entered in auto manufacturing and brought the iconic Willy's Jeep on the Indian roads. Over time M&M consolidated its position in Automobiles, Tractors, Steel and other promising sectors like IT, Hospitality, Financial Services, Components, Aerospace and Logistics. Today, the Group is a $20.3 billion global corporation employing more than 200,000 people across the globe.
Since its inception M&M has been a socially responsible corporate, contributing towards the well-being of the community which go beyond mandatory legal and statutory requirements. Evidence of this is the setting up of the KCMET in 1954, followed by M&M Foundation in 1969. In 2005 on the occasion of its 60th year, M&M pledged to contribute 1% (PAT) towards social initiatives much before the Govt. of India formalised CSR policy and made it compulsory for Corporates and PSU's to contribute 2% profit (PBT).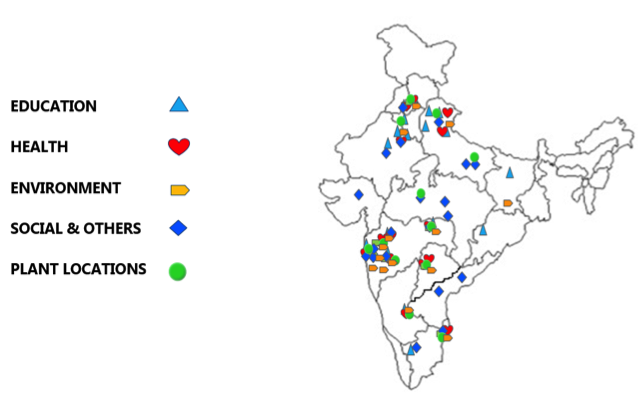 Aligned to the "Rise for Good" mission, we focus our efforts on the constituencies of girls, youth, and farmers, by supporting them in education, health and livelihood enhancement, with innovative programmes that harness the levelling power of technology. Rise for Good also entails running our business with integrity, responsibility and transparency, caring for the well-being of the planet and striving for the welfare of our employees, customers and the community.
Through Employee engagement the CSR activities are being implemented under the banner of Employee Social Options (ESOPs) at every plant/ business location. It is headed by the Location Head as an ESOP Leader and ensures implementation of CSR initiatives. ESOP Champion at every location drives the project with the support of local NGO's and Employee Volunteers.
Plants located across India have undertaken several primary projects in different thematic areas. These projects cater to the primary needs of the surrounding community as well as support strategic projects undertaken by the organization. At Mahindra (Auto, Farm and Agri sector) the CSR is well integrated with SDGs and projects are strategically chosen in various thematic areas like Water Management, Agricultural Productivity, Skill Development, Rural Health & Wellness and Road Safety.
The CSR projects of Mahindra have been widely recognized and some of the prestigious awards conferred are mentioned below:
Socially Aware Corporate for the Year 2017 by Business Standard

for Zero Fatality Corridor' Project on Mumbai Pune Expressway

Corporate Citizen of the Year 2017

by Economic Times for Nanhi Kali and Integrated Watershed Management Program at Damoh, MP

FICCI Road Safety Analysis & Action Award 2017

for  Zero Fatality Corridor project on the Mumbai Pune Expressway

The CSR Journal Excellence Award 2017

for Agriculture & Rural Development for Integrated Watershed Management Program at Damoh, MP

Energy and Environment Foundation Global CSR Award 2018

for Zero Fatality Corridor Project on Mumbai Pune Expressway

CII ITC Sustainability Award 2016

Commendation for Significant Achievement in Corporate Social Responsibility

Aqua Foundation Award 2015

for Promoting Sustainable Agriculture in the Rural Development category
As a large global corporation, we see an incredible opportunity to drive positive change for all our stakeholders. By making every aspect of our business sustainable, we reaffirm our commitment to a better world. From our employees to the communities which we are a part of, we want to conduct our business consciously and responsibly. In everything we do, we ensure that we 'Rise to do Good'.
To know more details about Mahindra visit here